Shipping to all countries
Free US Shipping on ALL Orders (2–7 days)
We care about your personal data
Easy Return & Refund policy
GET ANOTHER
$100

DISCOUNT BY USING CODE "

100BlackFriday

"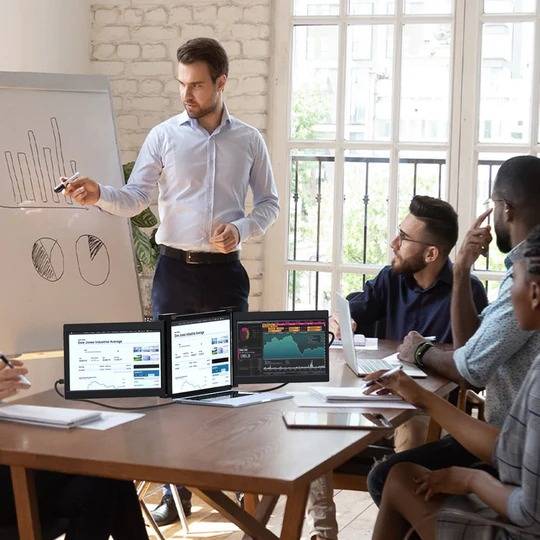 FOPO

A Brand You Can Trust
Our customer advocates are standing by 24/7 to support you via email and social media. We also have a comprehensive, regularly updated help center for those who prefer to find help yourself.
Products have
reached consumers
Satisfied customers
and five-star reviews
Recommendations
by over 50 safety experts
What Our Customers Are Saying

"This product is very cool - easy to install, and easy to use. The screens are a little small, but that is to be expected for something that attaches to a laptop. For someone that works on the go, this is a must. When combined with a wireless keyboard and mouse, it's like working from home!The only thing that I might suggest is to make sure you have enough USB ports. This will take up your HDMI and a USB-C port. If your laptop is limited on ports, get a USB extender. That will help out a lot."

"I bought this product to help me be more 'mobile'. I'm accustomed to using several monitors at my desktop and this product will let me do that anywhere! The monitors are easy to install on your existing laptop and the picture quality is great. My current laptop doesn't have enough ports to use both monitors at once, but I'm buying a cable splitter to remedy that. I also really like the fact that it has a kickstand for support. You can also use it without mounting it on your laptop. It folds up compactly for easy transport."

"I'm satisfied with this external monitor. This monitor extender perfectly fits my 15' laptop. Now, this triple monitor has been a useful helper in my life. I always use it when I need to finish my work or study with multiple programs or platforms.Pros:15 inches screen, I didn't find any other 15' triple monitor on fopomonitor1080P FHD IPS screen, feel comfortable during usingEasy to use, plug and playIt has a bracket in the back, I can use it without embedding my laptop in it."

"The 3-monitor setup is easy to install and to travel with. I'm very careful about opening and closing the monitors as it seems like they could be easily damaged if handled roughly. So far, the monitors have worked well and the quality of materials seems to be quite high. There are multiple cables connecting the monitors to the laptop, so it's important to be sure there are enough ports. Cable ties are useful to route the cords nicely. Overall, very satisfied with my purchase!."

"There were single monitors and double monitors, I wasn't looking for the absolute cheapest one but I wanted one with quality. This double laptop monitor doesn't only work flawlessly with an HP Envy, their customer service is at an unmatched level. If you can't figure out how to set it up, they will gladly assist you, don't worry it is compatible with everything they say it is. Mine happened to break for some reason, left screen stopped working, it must've been a factory defect. "